A good manicure improves the health and texture of your hands and fingernails, helps prevent hangnails and snagged cuticles and the accompanying hand massage improves circulation. The word manicure itself is derived from the Latin word 'manus' which means hands and 'cure', which means …..cure. In recent years, the mani/pedi spa has been favorite of brides and bridesmaids for a bit of indulgence and relaxation. But, what about grooms?
You can't spell manicure without  'MAN" so why don't most men understand they could greatly benefit from a good manicure? Whether they want a polish, simple buff or clean up the cuticles, grooms around the globe are starting to understand that it is about looking and feeling your best from head to toe.
French Manicures are by far the most popular manicure style for weddings. It is elegant, universal, classic and goes with everything from a denim skirt to a bridal gown. Clear or nail-colored nail polish is applied on the body of the nail and pure white nail polish at the tips of nails. The nails are shaped round, oval or square as desired. This can be done with your own natural nails or with any kind of artificial nail tip or overlay.
Natural looking nails are also very popular with brides. A muted shade of peach or pink is used, whichever color matches your natural nail bed. The natural nail is polished and groomed to perfection before the polish goes on.. Your nails will not stand out but you will notice the difference in how finished they look. This kind of polish effect really only works with natural nails but, it is very organic and understated.
 Even if you decide to go with the simplest manicure, this one beauty treatment is a must for both bride and groom since your photographer will probably want to get a close-up of your hands with wedding rings.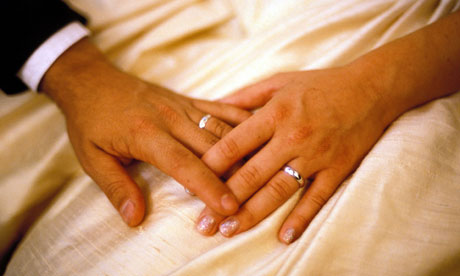 -Penny Frulla For Bridal Expo Chicago