A long time ago there was a very strict dress code for each and every event. Seriously, people got dressed up in suits to go to baseball games and ladies were in stockings and heels at the grocery store. Today, it seems, people have trouble knowing how to dress for dinner at a casual restaurant much less a wedding.  I see  people of all ages  wearing pajama pants in public and generally speaking, casual attire has gotten out of control. So when  my friend called me today and asked what she should wear to a wedding I thought it might be a good time to go over what is acceptable and what is not acceptable in wedding guest attire.
So in this day of casual wear how do you tell your wedding guests that jeans are not acceptable (even with a dinner jacket for men) and that you fully expect them to dress appropriately? It is not that hard, actually. The place to let your guests know what is expected of them is in the invitation or, even better, on your website if you have one.  I have defined some of the more common dress code terms so you can use them to let guests know what to expect.
"Casual Attire"– If you are having a destination wedding on the beach, your female guests should wear a sundress, cruise-wear, not beachwear. Espadrilles, sandals and a dressier flip flop ( if that exists) are all appropriate footwear. The beach is no place for stilettos, anyway. Men can get away with a nice shirt, maybe Tommy Bahama or a stylish Cubavera  shirt  with linen pants.
"Informal Wedding Attire" is a step up from casual. A nicer dress, made of nicer fabric – something you would wear to a college graduation or to meet the first lady. Floor length is out. Men should wear a suit but still no need to wear a tie if the shirt is nice enough. For a preppy look try a navy blazer with Khaki pants and a pastel print tie.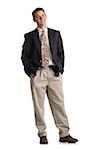 "Formal Attire" means men have the choice of a tuxedo or dark suit. Ladies can wear either short or long gowns but, it needs to be dressy. Break out the glam but, don't worry if you prefer the casual side of formal. Cocktail dresses are fine.
"Black Tie" or Ultra Formal is defined as cocktail or long dresses (only)for women and tuxedos (only)for men. Break out the fine jewelry, sparkly accessories and beaded purses. Men do not have to wear a bow tie as long as they have a tuxedo or a fine suit with contrasting fabric on the lapels. Dress like you are headed for the red carpet at the Academy Awards.
If your guests do not have the good sense  to know the definition of 'Casual Wedding Attire' ( for example), how do you enforce the dress code? That is entirely up to you. You could either have security to make sure everyone is  up to par and those who aren't are turned away or  tell the photographer not to take photos of anyone dressed inappropriately. Or you could just let it go.  With any luck at all, you could have someone dressed so oddly that it will entertain you for years to come. 
-Penny Frulla for Bridal Expo Chicago