I got a phone call today from a friend who is getting married in 2 weeks. She ordered her gown  9 months before the wedding date just as she was told , she gave a 1/2 deposit just as she was told, and now she sits less than 14 days before her wedding without a gown, worrying where it is and wondering why it took so long. Worrying if she is going to have a gown before her wedding, wondering if it is going to fit. Worrying if she should go somewhere else and buy a backup gown and wondering how she got into this mess in the first place.
In no particular order, here are some step you can take to make sure you are not ever in her shoes:
 Earlier is better. Give yourself as much time as you can. 1 year? No problem! 18 months, even better!!! Start shopping for your gown as soon as you become engaged.  Designers take a minimum of 6 months to complete an order and can take even longer depending upon the style, fabric and beading.
 Reputation is everything. Shop at a trusted salon, one that you have heard great things about. Go on the internet and do a little snooping around. Good recommendations are golden and word of mouth is the best referral. Decide which is more important; savings or service! Working with bridal professionals makes your journey a lot more enjoyable.
 Do your Research. Find out the  designer of your gown, where their company is located, where the garments are made and what their standard shipping time is. 
 Ask Questions. When you have a question, do not hesitate to ask your salon bridal consultant. They are familiar with the stock, the designers, the alterations, every aspect of the business. They get customers from referrals and they know that you will be their biggest advocate if you are happy with your service.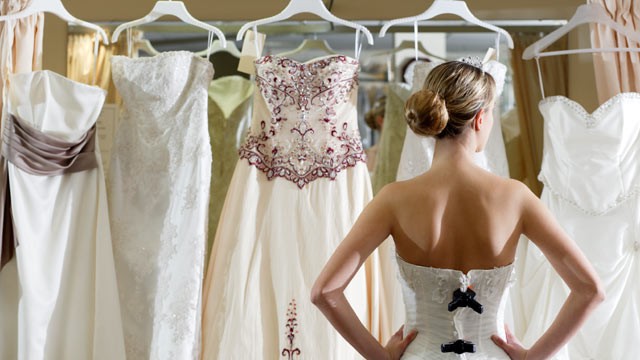 Back Scratching. Take care of your consultant and your consultant will take care of you. I'm not saying to bribe your consultant. I'm saying a nice note and a kind word all go a very long way when it comes to service.
 Plan ahead. If you do not have a gown within 2 months of your wedding date, you will need to have a backup plan in place. Remember that there are scores of salons that deal in consignment bridal gowns from major designers.
Remember, the worst thing you can do weeks (days) before your wedding is to stress and worry. It will trigger all kinds of physical symptoms; weight gain or loss, bags under your eyes, breakouts, hair loss, mood swings and more.  Most importantly, you are in control of the situation, the situation is not going to control you.
-Penny Frulla for Bridal Expo Chicago