At the Screen Actor's Guild awards last night, there were a slew of stars gearing up for the Oscars. But,  with a massive outbreak of the flu nationwide, more than a  few big names were left at home with the sniffles.
Did you see Justin Timberlake debut his professorial look?  Talented? YES! Funny? You bet! This suit is a moderate loser but, he is getting more and more adorable with age! Oh, wait – Jennifer Lawrence is in this photo with JT and Bradley Cooper? Let's just think about how that feels for a moment….. nice.
In the Navy:
Amanda Seyfried rocked the red carpet in Zac Posen. Love the hair on one side, love the necklace, love the pose… "My hand on my hip says I'm sassy- but, my head is tilted (slightly) down so I am humble about it!"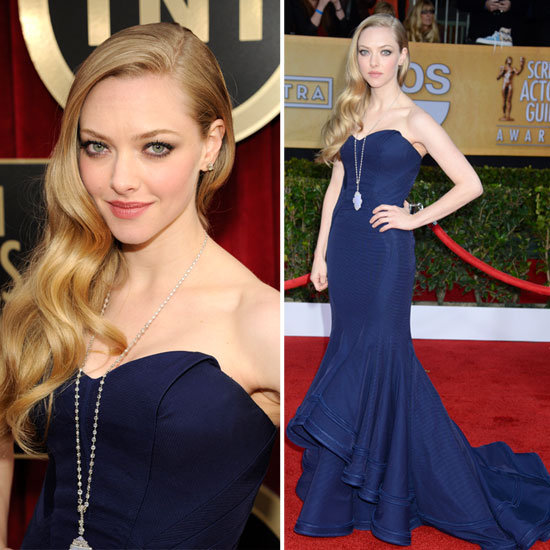 Nicole Kidman in Vivienne Westwood. Love is a strong word and so is hate. This look makes me feel ambivalent, nothing particularly striking but not a  mistake. "I'm a mom, I've had work done – but, here's my leg."
Jennifer Lawrence – The best thing about this gown is that there is not one detail other than the cut and fit of the garment itself. Plain? Yes… but, beautiful because of or in spite of the fact! Although her hand is perched gently on her hip and her head is tilted in an 'ever-so-sweet' fashion, I would not want to get on her bad side. She exudes confidence and a badass quality I cannot even fathom.  " I am posing, I am sweet ( see my head is turned ) but, do not make me mad. I will rip off this couture gown and chase you in high heels!"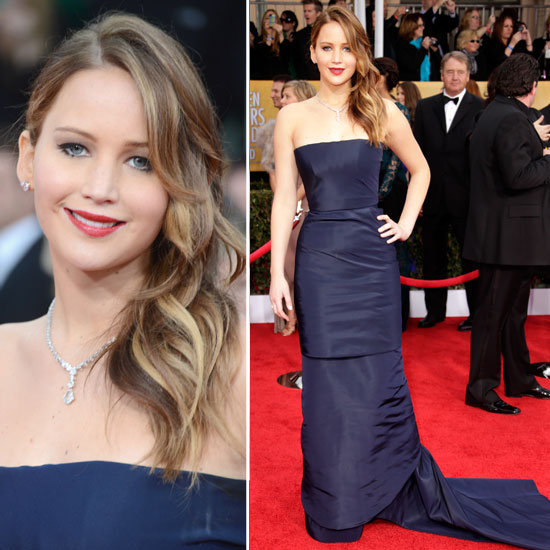 ps – Not a wardrobe malfunction, the gown is made in layers to eliminate bulk. The underlayer is attached to  silk chiffon so,  when she walked/lifted the top layer to take a step/ caught her  heel on the gown,  the chiffon peeps through and it make the gown appear to have been ripped.
Jessica Lange wore a beautiful gown by  J. Mendel. Soft, flowing and her hair and makeup were flawless. Really a great look for a lady of her … (whats the word?)…. talent. 
Back in Black:

Sigourney Weaver, are you high on cold medicine?  I get it – you aren't a size 2 anymore  and maybe you want something a little more loose fitting… but, this is a disaster. Who you gonna call? A stylist!
Jane Lynch must have been taking the same cold medicine as Sigourney Weaver – this  looks like something that she might have found in the back of Madonna's closet. She has a terrific figure but this dress is all wrong for this occassion. Maybe Halloween in the Village. Maybe.
Best of Black:
Tina Fey in Osacr de la Renta and Amy Poehler in Zuhair Murad, our favorite funny gals from the Golden Globes were spot on with their fashion choices last jnight. Wit, looks and good taste … those girls are on fire! Sizzle!
Did you have any favorites from last night's SAG awards?
-Penny Frulla for Bridal Expo Chicago