Tomorrow the awards season officially kicks off with the 70th Annual Golden Globe Awards. Both movie and television stars come together for one night of fun, fashion, frivolity and fierce competition to decide who wins, who loses and give us a hint of what to expect at the Academy Awards next month. And for the first time ever, the show will be co-hosted by our favorite female SNL weekend update alum.
The Hostesses with the Most: Tina Fey and Amy Poehler will certainly be on cloud nine tomorrow night. According to all reports, they have promised a night of fun, frivolity and a certain amount of cynicism. Both beautiful and equally smart,  these two  pose a double threat (squared).
NOMINEES:
One of my Red Carpet favorites  is Emily Blunt. Last year, as  a presenter, she wore this  golden, shimmering,  Elie Saab Couture gown. This year as a nominee for Salmon Fishing In The Yemen, she will definitely bring her "A" game … although I don't know how it could get much better than this!
There are many red carpet looks of Jennifer Lawrence – nominated for her role in Silver Linings Playbook. You only need to remember this one from the 2011 Academy Awards, and that's when hardly anybody even knew who she was. 
Julianna Margulies, consistently one of the most beautiful ladies on television is once again nominated for her role in The Good Wife. Note to Julianna:
More of this
and less of this
Nicole Kidman, nominated for her role in The Paperboy and for Hemmingway & Gellhorn, has a slew of jaw-dropping red carpet moments but, this pale pink Chanel from 2002 is my favorite!!!  It is soft, dainty, feminine and timeless. Since she is a double-nominee, expect her to pull out all the stops!
Meryl Streep, nominated for her role in Hope Springs, also has a slew of red carpet moments but, unfortunately for Ms. Streep, jaw- dropping isn't always a good thing.  Where is the stylist  from The Devil Wears Prada when you need her? Meryl Streep is one of the most beautiful & talented actresses in the world. What gives?
Michelle Dockery of Downton Abbey has really honed her red carpet style since last year's Golden Globe disaster. Compare this  Ralph Lauren gown at the Met Gala later in the year.
to last year's frumpy, wrinkled, blue, ball gown… yikes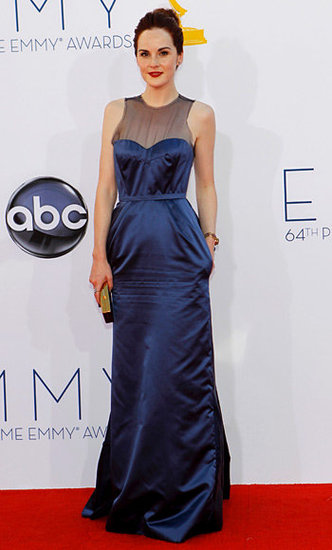 Julianne Moore gave an incredible performance as the former governor of Alaska  in Game Change. Definitely my pick for best actress in a television movie!  Although she doesn't have the best track record on the red carpet, there is hope. Maybe she picked a stylist who will give her a little better shoe advice than she had in 2012. This gown is terrific – the shoe is a drag.
Whoever wins or loses, there is always a lot to see on the red carpet before, during, and after the show. Check back Monday for our Best & Worst picks from the 2013 Golden Globes Red Carpet!
-Penny Frulla for Bridal Expo Chicago