There is something very special about the relationship between women and their shoes. For me, it is red shoes; anything from a light, orange-y red to a burgundy red, from a smooth patent leather to a buttery suede, I gasp every time! For wedding shoes it goes double. Almost as important as the gown is what to put on your feet. Because the right shoe will give you every reason to slightly lift the corner of your ball gown and show everyone your sassy little secret! If I had known then what I know now, I would have gladly worn red shoes on my wedding day … whether anyone noticed or not.
Without hesitation here are the hottest trends for wedding shoes for Summer 2012:
Bedazzled: Flawless, shimmering stones adorn shoes in every size, color and style. Whether completely encrusted with jewels, or merely a hint of sparkle  – get a pair and you won't be sorry.
The Wedge – Once considered a casual style, the wedge has made it's way into Bridal Fashion through sheer determination. That, and the fact that a wedge is probably one of the most comfortable styles of shoe if you plan to be on your feet for an extended period of time. You can have comfort and style!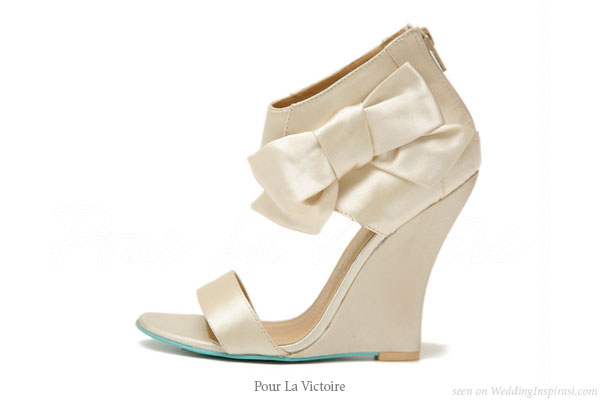 Platform –  To add height, elongate your legs and feel like a showgirl, platforms are a fantastic solution. I various shapes, size styles and colors, platforms are everywhere!!!
Designer – The unprecedented success of the Christian Louboutin 'red sole' has seen an increase in designer shoe sales.  Ladies, if you allow yourself  one splurge, this should be it!!
Color – Brides everywhere are embracing the color trend and using it to express their individuality, style and love of shoes. My favorite? Something Red, or maybe even something Blue!
Can't decide which trend is best for you? You don't have to! This sparkle, wedge, platform, designer shoe by Benjamin Adams is dyeable in a multitude of colors and priced at under $400 retail, you don't have to break the bank!
-Penny Frulla for Bridal Expo Chicago