Ever since the First Lady, Michelle Obama, showed up with bangs last week , the media has gone wild! The truth is that all it it takes is something as simple as one very  highly visible person to modify their appearance for a trend to slowly take hold. On the other hand, this style change was more like the "Shot Heard Around The World." Every program, every channel was asking the burning question, "What do you think of the First Lady's bangs?" For a brief moment, there was no debt ceiling, no fiscal cliff and no gun control ….. just bangs. In honor of Mrs. Obama, here is my salute to bangs- of all lengths and kinds!
Long bangs – Defined as long bits of hair  that frame the face but come to the middle of the eye …at least! Long bangs look great with layered hair . It all  frames the face at the same time and is very slimming.
Long Bangs  look equally great with short hair.
Side bangs – Any length of bangs that are swept  to one side. Side bangs are great if you have a cowlick in the front of your hairline and they are soft and flattering to the face.
Pixie Bangs –  This is what my bangs looked like when I cut them myself as a young girl and also the last time I got my haircut and wanted to strangle the hairdresser. Really great on small faces or with short, wispy hair… not on me!
Blunt Bangs are cut straight across with no feathering. Blunt bangs are difficult to wear for some and absolutely perfect on others. Bunt pixie bangs are an odd choice but, there is something for everyone.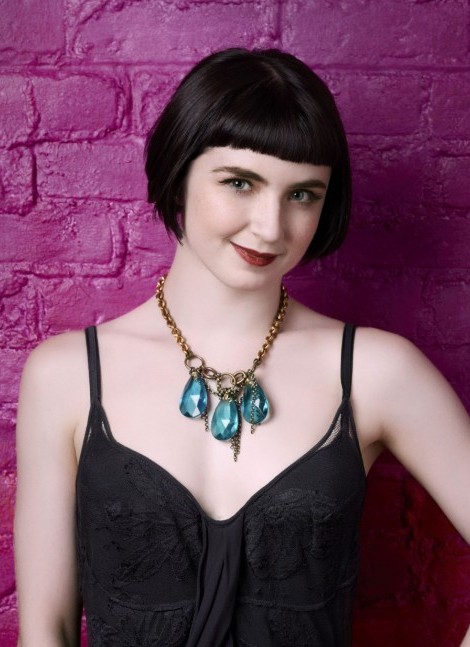 Which brings us to the most popular style, the current style worn by the first  lady, the Curved Bangs. Curved bangs frame the face on the sides and look really flattering on almost everyone.
They are tapered into layered or blunt cut hair.
Most importantly, they are long enough  to be incorporated into the hair or slicked back  if necessary but, no so long that they obscure your eyesight.
The right bangs will make you look and feel 10 years younger. Be careful, though and DON'T Experiment with bangs unless you have a solid 3 months to completely grow out any mistakes!! My advice: Start early if you are feeling the 'urge to splurge' on bangs!
-Penny Frulla for Bridal Expo Chicago