If you are  having your wedding in 2013… do we have good news for you: there is a lot to look forward to, A LOT!  No matter what your budget, the top trends reporting for this coming year have something to offer for everyone! 
2013 is all about putting on the glitz!
"It's a move towards sophistication," says Alyssa Brown of Alison Events in San Francisco, the planners behind Seth Rogen's recent nuptials. "For example, we're planning an outdoor event right now, but there's crystal on the table, and gold silverware and chargers," Alyssa explains. "And black tie is playing a huge role right now. It's full-length gowns for everybody!"
Along those same lines, couples will be opting for formality and sophistication in their tablescapes; crystal, chandeliers, chargers, gold silverware combined with eclectic elements to give a homespun feel.
2013 Flower of the year: The Peony. Soft, lush and romantic, the peony is the most requested wedding flower for two years running now, according to Sayles Livingston of Sayles Livingston Design in Newport, Rhode Island. But with the bloom available for only two months out of the year, brides need a backup. Sayles recommends the garden rose, which has the same delicate petal feeling but is much more readily available.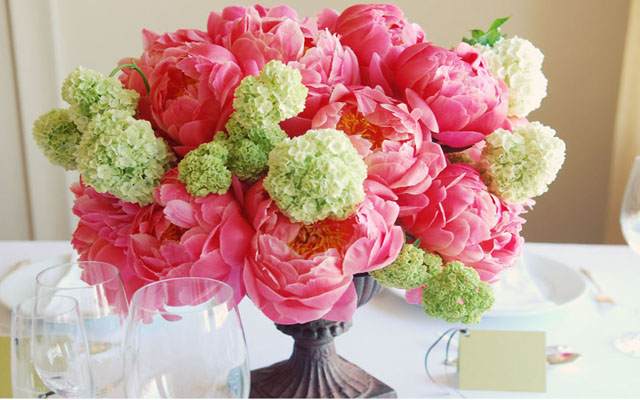 Eye- Popping Cakes. The cake style that dominates right now is clean and modern with  eye- popping color or all-over appliqués. Is it vintage or is it modern? Who knows, who cares – it is chic and adorable so go with it!.
"Less is More" Color. Neutral color palettes; Blush, grey, champagne will continue to trend among all brides whether formal, semi-formal or casual. Softer fabrics,laces, softer colors are one of the must-haves for a glamorous 2013 wedding. The look is surprisingly versatile and wears well on almost all skin tones.
Foil stamping is in! Look for glints of metallic gold, silver and bronzes stamped directly on the wedding invitation. Imagine your names, or calligraphy scrollwork looking modern in gold. It adds a very fun pop without being too glitzy.
Those with a sweet tooth, take heart.  Dessert bars are here to stay, but now they have a formal twist.Look for requests for dessert bars by color. For a white one; do merengues, French macaroons, fudge brownies topped with powdered sugar, and lots of desserts with vanilla-bean frosting.
 No matter what you are looking for in 2013, you will find everything you need at one of Bridal Expo Chicago's Luxury Events. Please call our office at 847-428-3320 or visit our website www.bridalshowexpo.com to get tickets to a show in your area.
-Penny Frulla for Bridal Expo Chicago