There is always a new trend on the horizon when it comes to fashion, and hair is as much (or more) a part of fashion than your clothes. The perfect gown will be an epic fail without the right hairstyle and when you are walking down the aisle, you don't need your hair to look like it was caught in a time warp.
 Braids. Loose or tight, perfectly coiffed to look somewhat messy, braids are a beautiful way to keep your hair securely off your face. The number one choice is the French Fishtail, a variation of the classic French Braid using only two strands of hair and weaving them in a herringbone fashion.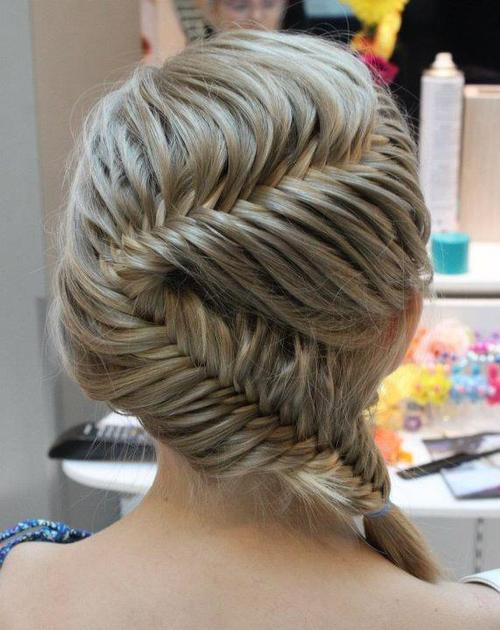 Ombre. This gradation of color has been very popular this year in gowns, flowers, cakes and now in hair. You can go light to dark or dark to light but, the important thing is GRADATION of color – not a definite line where one color starts and the other one ends. Rather than making your ends look brittle and dry, for some reason the lighter tips give your hair bounce and pizazz. Go figure!
Homemade Curls. Both nostalgic and modern, this girlish and quirky hairstyle gives off a laid back air. Although it is best suited for longer hair – it works beautifully with the right shoulder length cut.
Retro Glam. Want to look like a movie star from the 1930′s? Try a super glamorous, retro style either half up, to the side or all down. Smooth as silk, no fly-aways, perfectly coiffed, this style is the utmost in elegant and not a casual look. If you choose this style, remember the makeup needs to be in sync with the same decade, smoky eyes do not apply here.
Choosing the right hairstyle for your wedding is an important decision. tTy out different styles until you find the look that suits your personal style  the best and do't be afraid to experiment with something new as long as you have time to correct it if it doesn't work out. Remember – trends are great…. but, the classics never die!
-Penny Frulla for Bridal Expo Chicago